Falling in Love with a Vampyre
February 6, 2011
I see him in the hall
As he walks with his friends.
All of them so bright
With a fire
That burns within their souls.

He looks my way
And I fall.
Eyes that show centuries of knowledge
Are set into such a young face.
What is he?

I talk to my friends
And he haunts my dreams.
He asks me out.
I say Yes
And sigh.

The party is dark
I can barley see.
He talks to me and leans in,
His lips at my throat.
I tense
As he bites.

I fall into oblivion as he drinks.
'No' I hear him say.
He pulls away
As I feel the blood
Running down my neck.
I slip into unconscious
And hear him cry No
Once again.

I wake up
At home.
I call him
Begging him to tell me,
What's wrong?
He says we can't
Be together anymore
And I cry No.

At school his eyes are dark and
He will not talk to me.
There isn't any lightness in his tread
Anymore.
I catch his eye and see
The pain of a thousand years,
A thousand mistakes.

I corner him
And tell him the truth.
I know what he is.
I know
What he did to me
At the party.

I tell him
I still love him.
I tell him
I loved him even before
He bit me.

He doesn't believe me.
I beg him to use the gloom
To see for himself.
He does and says
No.
While I tell him
Yes.

Then we surrendered ourselves to our love
And the peaceful oblivion it brought.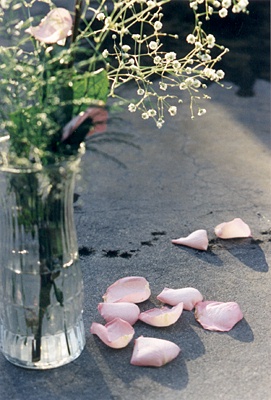 © Mary Amor, Fullerton, CA