Love Letter
January 24, 2011
A warm touch to my cold hand,
I feel alive again.
Before I could have easily been dead,
An icicle, or a withered branch of a tree.

Maybe I was a pebble,
Stepped on and unnoticed.
Now I am awake,
Clear-headed and excited.

I embrace the morning with a new face.
A smile,
A dance,
I am a song.

Salutary.
I am now giggling to myself when I am alone.
I am silly and giddy.
Gay and jovial.

I pour myself out to you,
Bend me and mold me into any shape,
I have melted.

I cannot conceive any better feeling.
My eyes cannot see anything more lovely.
My hands cannot touch anything more soft.
My nostrils cannot smell anything more aromatic.
I cannot hear words cross a tongue any more dazzling.

If I had once been dead,
I am now born and living again.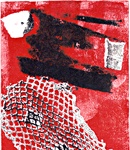 © John K., Wayland, MA