Storm
January 11, 2011
The beat of power pulses strong,
A rush I've held in all along.

Waves of ocean, icy blue,
Lightning flashes; that's my cue.
Surge of impulse, flow of rain,
I hold my breath to cease the pain.
Not all is lost within my mind,
Of fear and frost I won't confine.

Heartbeat steady, power ready,
Sleet and snow like a machete.
I think in phrases, groups of two,
The stanzas wipe out all but few.
The destination's coming fast;
I ask how long I ought to last.

Laughing feels like tearing wind
While crying loud has thunder pinned.
I feel the clouds of storm arise,
They hope I head to my demise.
Potential static boils and fumes
Like power set, though I assume

That it will turn and join my side
And in its strength will I confide.
In all I say, in what I do,
I stop, look back, and see the few
Who stood beside me though I fell,
And pulled me from the grasps of hell.

What do I do? I ask in thought.
If I betray them, will I ought
To neglect all that they've said and done
As if it's vapor, and was none?
Why oh why must power leave
One to decide what they shall sheathe?

Horizons lie dark and uncertain,
A billowing sky, a blackened curtain.
No thing is benign, though none can tell
How fast the rogues will tend to swell.
For life or family? Which is best?
My approaching fate will be my test.

And in the end, it will decide
If I was wrong to breach the tide.
For what it's worth, I felt compelled
To explore, and see, (with courage upheld,)
This dark, and strange, and foreign storm
In search of friends, and things of norm.

The icy tundra bites my skin
While deep inside, I'm warm within.
I watch for flares, and lightning flashes,
Thunder booms, the tidal crashes.
I hold on strong to what I know.
I will not lose within the snow:

My life, my laugh, my love of light,
The sounds of music, and I will fight
For what I know is victory.
Steadfast still, when history
Repeats, and goes, and circles 'round,
In my heart I will have found

What I have longed for, and takes form:
The eye, the center, of the storm.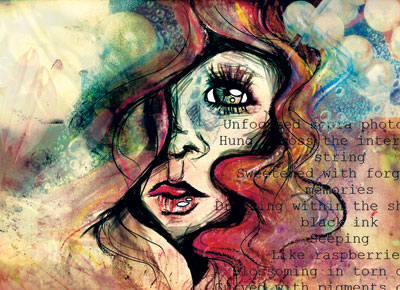 © Victor K., Las Vegas, NV