All Grown Up
January 8, 2011
When we were young,
we played hide-and-seek.
We jumped in piles of leaves.
We swung as high as we could until we got sick.
We played baseball, and you always won.

When we were young,
I taught you how to tie your shoe
with that funny story about the bunnies.
I told you it was a bad idea to
stick your tongue on that frozen pole.
I also helped you get un-stuck from the pole,
and walked you to your house while you cried.
I told you that when I was older
you would be my best friend.

When we were young,
you taught me how to catch a lizard.
You taught me that if you land just
the right way, you could survive a fall
from ten feet up without a scratch.
You told me that if a ladybug
landed on me, I was lucky.
You also helped me find a four leaf clover
in the field behind our neighborhood.
You told me that when you were older
I would be your best friend.

But that was several years ago,
and here we are.
Here we are, standing awkwardly
in a room, not speaking.
When you pass me by in the halway,
you do not even glance at me.
When I see you in the classroom,
I watch and see if you will say hi to me.
But you do not.
I wish it could be when we were young.
Maybe a lady bug will land on me, and
I will get lucky.

And you will be there, with your pet iguana
and your band-aids covering your body,
and you will be holding out a four-leaf clover just for me.
And we'll hug, and be best friends again.
But that was long ago.
Back when we were young.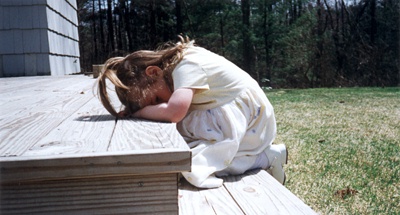 © Katherine B., Hingham, MA