Superstar
November 26, 2010
She's an invisible girl.
A plain Jane.
Nobody takes notice
Of her.

She has friends
But they're loud and outgoing
Loved by all
Not a bit like her.

She stands in the background
Silently supportive
A listener in every conversation
A shoulder to cry on
That's her.

But she sometimes wishes
deep
down
inside,
That she wasn't her.

She wishes she was a superstar
Everyone from near and far
Would be her friend and laugh at her jokes
She'd be the center of attention.

She tries out for the school play
Memorizing the lines
For the lead part
And she becomes somebody else on that stage.

Because
She's imagining that she's a superstar
Everyone from near and far
Is her friend and hangs out with her
She's the life of every party.

She anxiously looks at the cast list
Wondering if her name is at the top
If she'll finally have her moment
Where everyone would notice her.

But she was cast as an extra
She'll be walking behind the lead roles
Supporting them quietly in the background
Because that's the part that fits her.

But she cries at home because

She longs to be the superstar
Everyone from near and far
Would come and watch her in her starring role
On Broadway and beyond.

She's a depressed girl now.
So she writes her feelings out on paper
Letting the words flow through her pen
Exposing the real her

And how

She wants to be a superstar
Why, oh why is she so far
From being the person she wants to be
She's sick of being in the background.

After the words are written and tears are shed
The girl finally puts down her pen
Then reads her words all over again
And likes what she reads.

So she puts some corrections on the paper
A comma here,
A changed word there,
And submits her work online
So people can see
The words that describe
Her.

She doesn't dream of being a superstar anymore.


But one day she gets a call
That changes her life forever
People saw the real her in her words
And liked what they saw.

Her writing was published in a magazine
There, in print, for the world to see
She jumps up and down with joy
For she's the center of attention.

Now that girl's a superstar
Many people from near and far
Congratulates her on her work being published
She's not invisible anymore.

She's always been a superstar
But she needed to wait
For her time to shine.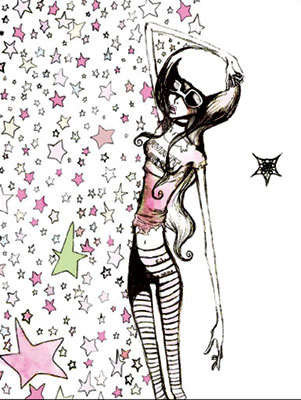 © Emily L., Redmond, OR