Ticker Tapes
November 15, 2010
The city looks like it always did,
Just a-swaying like a palm on an island.
And yet all this newfound clarity
Has me trapped in a frozen whirlpool.

The lighthouse keeper's voice carries across the bay
Pealing in the night like awful wedding bells
He says they're putting chlorine in the ocean,
But a crashing wave subdues him.

He is only another candle
On a melting birthday cake;
Carefully, we gather the frosting in our hair,
Stifling laughter at grandmother's silver.

I feel my knees in agonizing sympathy
Reach out to him from my land locked dreams.
Reckless sound turns to an ugly lie,
And I tell him they're putting neon in the sky.

My ego reverberates through hollow velvet
Comprehension settles on the bridge of his nose,
Where his glasses lay in wait.
He would rather I sing than die.

I gather my calico dresses around me
But he stops me with beautiful broken bottles of stained glass.
I start drinking shipwrecks and other people's pasts
Intoxicated, the drums in my ears unfurl.

What is an angel,
What is a soul without skin?
Facades crawling up the walls
I tell him I'm a shadow, I am thin.

The soliloquies are innumerable,
But they are fading in each chamber,
Where the hearts are attacking,
And prayers are going by on ticker tapes.

This web that he's spun
Is filling me up with asterisks.
All I really want, all I really need
Is one last dance, one more waltz with porcelain.

There is no chlorine in the oceans
But there is neon in the sky
And I put it there
With the help of somebody else's wings.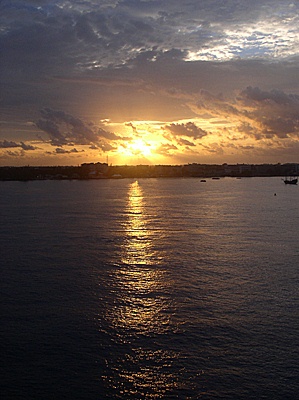 © Rebecca Y., Los Angeles, CA