Solitude
November 12, 2010
The autumn leaves fall gently,
As the wind caresses all that was once green.
The atmosphere is tense.
The water of the nearby river
No longer runs with the current.
Time seems to stand still
Trying to avoid further catastrophe.

I gaze into the open field wondering.
How did things end like this?
The days seem to have lost their meaning.
My heart aches still,
The gash not yet healed
From when you were yanked right out of my arms.

The birds cheep, singing their songs of joy.
Their melodies, mocking.
For I cannot smile and be blissful as they are.
A tear cascades down my cheek
Relieving me of a miniscule of sorrow.
The crickets obscured by the meadow chirp away
Reminding me of my solitary state.

The sun is concealed behind gray clouds
A sprinkle of water falling over me.
I close my eyes and listen to the sounds of the valley.
I am incomplete without you.
My place will be here until your return.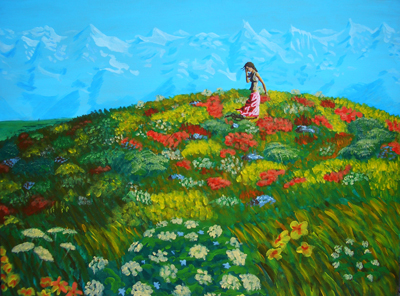 © Allison F., Langhorne, PA