What it was like
October 28, 2010
It was like:

Erik Satie's Trois Gymnopedie

Amongst the parades of sweater vests and their intellectual babbling.

So much proclaimed without meaning that even the trees bled wisdom to make room for what was to come.
My eyes surveyed the decay, collecting the burnt orange and ruby reds like fire set ablaze along the path to enlightenment.

But you,
You hid within the incipient. Your brilliance overlooked and mistaken for something yet to come,
A possibility.
Though it was always there, wasn't it?

I caught a glimpse of this:

While the rest were busy inhaling pieces of their existence,
Swarms of un-uttered words suspended in time and space,
Blinded by a world of possibility…
My eyes were fixed on you.
My mind navigating the trail of stubble across your chin,
climbing the peaks of your cheekbones,
and crossing the bridge of your nose.
You gracefully ignored my elongated glance as if a politeness
ingrained in your character
had in that moment washed across the fragrance of my fancy

d***ing my dreams



Or maybe it happened this way:

You, a faded memory nebulous, an elegant waltz through the snow under a blackened sky,
You caught my glance and held it,
Delicately cradling it as though it was the last of my innocence,
And it was,
It was the last kiss of dandelions held beneath the warmth of a mother's gaze under spring clouds,
Before I cast those images away
in exchange for the display of skin offering itself within the folds of your shirt.

For an eternity in that moment, our shared gaze
within the landscape of insignificant doctrines
and of ethical restraint,
sparked the explosion that consumed my soul,
leaving utter yearning in its wake.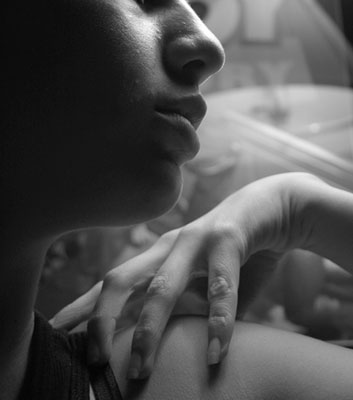 © Rebecca B., Santa Clara, CA