[In Black Ink Scribbles]
October 26, 2010
In the silence of a waiting room
you wait for answers
as Courage hangs itself
from your fingertips,
suicidal and dissolving
with the murky forms
of your previous convictions.

Your eyes are veiled windows,
harboring the emptiness beneath:
the pupils are dilated,
desperate for information
(anything to digest)
and your irides wane
to accommodate
such rabid fervor.

Behind this facade
your mind is a tomb
where reason is interred
and faith is only found
in pieces, its framework
collapsing beneath
the weight
of several sour cells.

We all have the right
to be misguided.

But in these moments
without measure
you bequeath the flicker
of a prayer
on the suspension of disbelief
that reality and God
could not have reconciled
on more agreeable terms.

"Please..."

In the stillness and suspense
of this pivotal ambiguity
a response is furnished,
though not an answer:

"I cannot save you from death;
I will not keep you from living."

An impassive revelation
from a personal God,
but still you extract
the meaning:

He has left you
with a choice...

and you take it.

Now
in the silence,
you find Life
as a hushed peace
in the infinite Now
and Courage
weaves itself
once again
through your veins ,
banishing the shadows
of doubt
and disbelief.

You have the right
to be misguided,
but you leave it
in the tomb
once occupied
by your faith,
now fully resurrected.

~

The answer finally came
in an envelope
delivered by a man
dressed in white.

And in black ink scribbles
on a cotton-pressed page
it read:

"Death is promised to us all,
Living until then, is not..."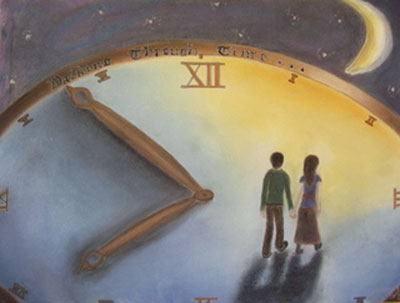 © Carollynn G., Hawthorne, NY