I Want To Be...
October 24, 2010
I want to be so many different things, yet it is supposed to feel effortless to be myself
it should be simple to display your own personality without a second thought
If only that were so.

I crave to be like God in every way,
Though i know that is far from reality.
Both my heart and my mmind are telling me different things.
This leaves me confused and distraught.
i am afraid that until I learn who I truly want to be, these emotions will become familiar

I am a mess of contradictions,
Each is furiously vying to destroy what peace of mind I have lef.
Whether I should be a leader or a follower,
Whether I should be blunt or sharp,
Whether I should be meek or bold,
Whether I should be narrow or broad,
I have no way of knowing which path is meant for me to follow.

As soon as I decide who I want to be,
A huge burden will be lifted that was previously sitting lazily on my shoulders,
I will emerge stronger, and I will become sturdier,
When i finally convince myself to fully rely on Him and Him alone.

Neither seconds nor days can easure how long this will take or me to realize.
I can't imagine God's plan for me , or how He will mold me in the future,
That's the most wondrous part,
I have to anxiously wait until he transforms me into the girl I want to be,
I may have to put some work in, but that's a small price to pay,
For there is only one thing I can think of that I want to be,
And that is a woman of God.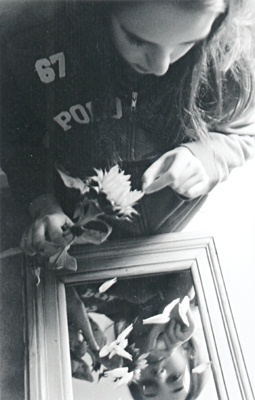 © Cerys W., Marblehead, MA