Solitude
October 25, 2010
The rain pounds outside,
In your room you choose a song,
Its words speak the thoughts in your head,
Silently it plays in the background.

The beats and rhythms
Soothing the turmoil inside your soul.
You lie back, breathe slowly and stare
Out from your eyes to an empty space
Created from the ceiling impressions.

You turn to look at the world of grey.
The darkness begins to settle outside
The clouds hang low and rain pours down
A mist forms against the window pane.

You draw muted figures,
Whose shapes slowly drip
Into nothingness, fade into nonexistence.

You find tears pooling,
Trickling from an abyss
That you thought had been closed.

In your room, with walls of deep black
You dim the lighting, into a haze of purple
Whose small light reflects off the walls
With brushstrokes so clearly made.

You run your hand over the textures
Remembering the pain you once felt
That prompted the swirls of oblivion
The patterns calm your fears,
A sense of structure in and unknown world
It anchors you, prevents you from floating,
Being swept out into an emptiness.

Moonlight filters through the windows
Illuminating the hollowness in the room.
The song softly sings its last notes
Ending the stream of thoughts it brought.

You settle back on your bed.
Shroud yourself with a blanket
Its plush material folds against your skin.
The ending chords ring out,
Echoing off the abyss you created.

You tie yourself down
Into a comfort of lingering emotion
The moon shines across your face
Peaceful as you drift into a sleep
Untroubled as the next song begins,
Harmonizing with your steady breathing
And the hum of the rain in the sky above.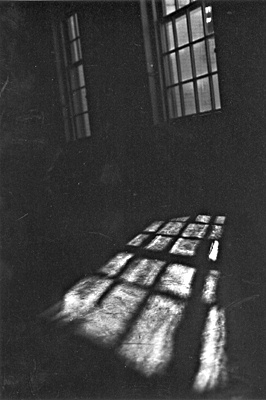 © Mary A., Fullerton, CA