A Leap of Courage
October 19, 2010
There I stood, blue eyes gazing, staring
As he, the unknown, unnamed man, wore away by age's wrath,
Sat, speechless, staring,
His mouth gaping, ajar.
Around him, people chattered, chomped, and chewed,
As his face reddened more and more,
He stiffened and grabbed his throat.
And that's when I knew,
That the scarlet, hopeless consumer was indeed choking.
He couldn't talk or move,
And I knew what I had to do,
Despite that strangeness of the man to me,
I leapt from my chair, wrapping my arms around his thick stomach,
and pressed, pushed, pounded.
He hacked and coughed,
Until unlogged was a wet clump of steak.
He gasped for air, inhaled, exhaled,
And at last he looked at me and smiled.
He thanked me for what I had done,
I saved his life, at the age of only twelve,
All by myself, with no outside help.
He was grateful, I was proud.
Helping him brought a warmth into me,
But it had nothing to do with temperature,
Just courage and pure good.
I smiled and replied,
"You're very welcome sir. Enjoy the rest of your night."
And off the life saver went, still smiling-
That would be me.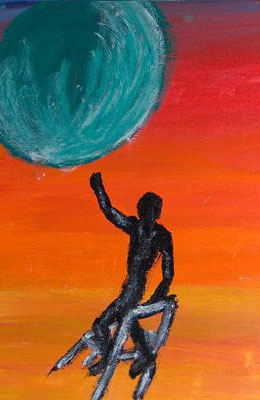 © Maegan F., Harrisburg, NC