A Love Divided In Two
October 7, 2010
My heart is torn right down the middle, broken into two.
Half beats its love for him, the other half for you.
This painful internal war is ripping me apart, piece by piece.
When, if ever, will this heartless parade cease?

Sometimes I remember the laughing, happy times.
Then hurt we felt, the relationship leaving its prime.
We once loved each other, but it couldn't stay.
Love bounced on, and floundered away.

We both felt abandoned, lost in a remote place,
Remembering the shattered looks on each others' face.
We moved on, we found new lusts, and crushes
Harmless, pointless midnight touches.

Once the hurt has passed and disappeared,
Clarity returns and my mind is cleared.
I know it's him that I want and need
One on one, leaving you behind to bleed.

Look at him, his musical fingers, his quiet ways,
He is always on my mind, setting my heart ablaze.
Look at him, he's your friend. How could I be?
This terrible witch, and ruin what we all see?

He and I, we hardly ever talk. Occasionally, we might speak
But nothing of significance, nothing remotely unique.
Sometimes I wish it was as easy with him as it is with you
The conversational flow, ringing sound and true.

When I compare you both, I see…
Your gorgeous sapphire eyes, sculpted beautifully.
His eyes, a little more mysterious, minutely a different blue,
But just as laughing, just as appealing, too.

I feel your hands, caressing and encasing mine.
I miss your smile, and your cheesy pickup lines.
But then I imagine him, and how it would feel,
To have him hold my hands, it seems impossibly real.

Throughout the day, these lonesome days,
The highlights are you two and your praise.
Even just your' laughs; beaming, shining.
Bring love into my heart, and I terminate my whining.

When I speak to you, I feel uplifted, and happy.
I could tell you anything, no matter just how sappy.
Together, we are always perverted, giggling and weird.
But, we are approaching the time we have always feared.

Around him I feel quiet; he brings out the good in me.
This is a side of myself you will probably never see.
We jam out to crazy music, and sit in silent peace.
It feels as if my love for him could never possibly decrease.

Compared with him, me and you…
We could be besties, tight as one and two.
But he and I, we appear just acquaintances
Appropriately nice and familiar faces.

I love you both so much indeed, how could I possibly not see?
That I want you, and you both want the girl a little prettier than me.
I'll be honest. I'll admit it without any shame.
It's my ugliness, inside and out to blame.

I guess I should have known, that the flirting you both execute,
Isn't actually towards me, I'm just kind of cute.
Not enough to be the one that you and him dream of,
I guess that's okay, I will just hide it, this darned and cursed love.

This indecision plagues me, haunts my heart and soul.
How will I choose? How can I know?
Maybe God will tell me, which one of you is right.
For now, I lie awake, under the starry night.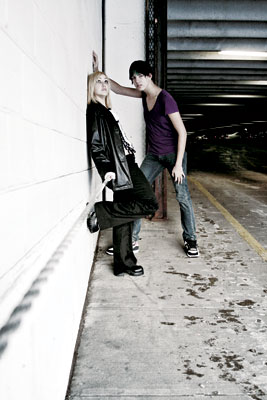 © Jessica F., Bradford, MA