red white and blue
October 6, 2010
the disaster strikes,
troops deployed never to come back.
Still with hope the son waites for his daddy to call and say "im okay, i love you"
mother sits for days holding the phone to her beating chest.
tears falling from her cheaks.
"mommy dont cry, he'll be home soon, i love you".
the day that black car pulled up with flags on top.
"mommy don't cry"
she opens the foor to a man with a that folded flag, dog tags on top.
"roadside" he says, "i'm sorry for your loss."
screams as she shuts the door,
"whats wrong mommy? wheres daddy?"
she looks up to see her sky as the white celling above.
red blood from her broken heart seeming to be pooring out her chest, as the little boy runs outside looking up to the blue sky as he wispers "daddy i love you."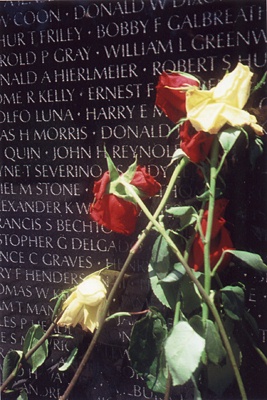 © Justin R., Angola, IN