Walk Through the Gate
September 26, 2010
Into the city, into the cage, where the damned govern and the forsaken inhabit.
The doors lock; he stands trapped much like an animal before the slaughter.
Filthy hands lacerate his flesh as he is pulled through the corso.
Light is gone, as is his freedom.
Screams are the symphony of the streets.
Hands bound to his back he stands before a crowd of hellish demons.
They light the wood he stands on.
"Memento mori."
Already he can feel the heat upon his legs.
"Memento mori."
Feel the inferno lick his hands,
"Memento mori."
Feel the flames catch his shirt.
Above the sound of the fire, he can hear the monstrosities shriek:
"Memento mori!"
Remember you must die.
Die to live.
The heat reaches his face, blackening his cheeks, turning his fair face into something dark and vile.
Now the blaze is gone, as is his body.
Where he stood, there is ash.
But out of the soot comes a new man.
Black hair replaces the white,
Blue eyes turn to red,
Sun-kissed skin becomes pallid.
His shining grin is now an unlit grimace.
The fire blackened his soul; left his mind burned, and turned his heart black.
Saint is dead.
Satan is alive.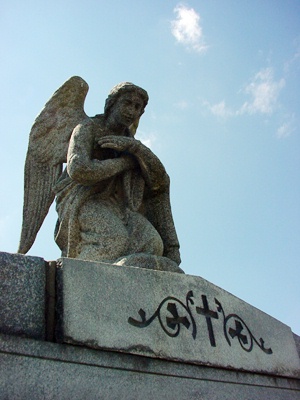 © Greg K., New Lenox, IL