voices
September 9, 2010
my life is held
in the hands of hate
my body feels
like a piece of shark bait.
completely alive,
but yet torn to shreds.
i don't want to
put this bottle down,
let it drown in me.
I'm not going to waste my time
and believe the lie
i call my life.
i have no reason to feel this way,
but quit frankly,today,
i don't give a shit.
I'm done with the pain
i deal with everyday.
locked in my room,
i cry myself to sleep.
don't wake me,
for i cant bear to see the light,
it screams life.
and life right now,
seems like a game,
a game only to be won by the ones who cheat.
and I'm not a cheater.
i don't deserve this,
i don't want to be depressed.
but it seems like there is no choice for me,
no better way for me to go through the day,
but to cry.
some days i wanna die,
but that seems too irrational
because one day my life might be worth living.
except today,
i feel like a failure.
don't wake me,
for i am dead.
don't wake me,
the light i dread.
I'm not alive
but I'm not dead.
the pain i feel is
just in my head.
no one has painfully caused me harm,
but the voices tell me other wise.
i hear them in my sleep,
telling me to not wake up,
because if i do
they will kill me.
don't wake me,
i don't wanna die.
for the hate i feel,
is my own hands.
and they are controlled by the voices in my head.
they are the things i dread.
so really.
wake me,
wake me now!
i don't wanna drown in the world of hatred,
going on in my brain.
save me
from my own skin.
i don't wanna give in.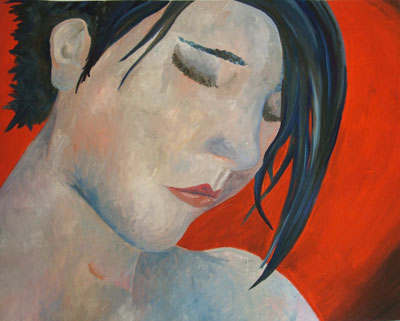 © Lindsay S., Billings, MT