Until All is Done
September 23, 2010
Foamy crack-glass and feathery rock,
The sea opens its stomach, splitting like a ripe plum.
The bitter stars are like a drug, the waves ebb into a slumbering lull.
Bare are the sands and man walks, for now.

Between blocks of granite, I am standing out into the water,
Stretching inhuman and immense up to the ledge of the continent.
I am almost gone, wrenched free of the sickness of cities
By these blistering waves.

This is the place where I am not.
Erased and incandescent as a piece of moon.
Clean as a slippery fish, and cold straight through my nerve-endings.
The sun is almost down, and blind, I am encased by massive storm-fed walls of fog.

Then jumbled and unbroken, the sky-sun seeps through my lidless eyes
I must stand until all is done.
The doom-grazed race of men slips down, the earth is rid of the parasite.
And long after, my bones will remain, the clean watchmen of a stained poet.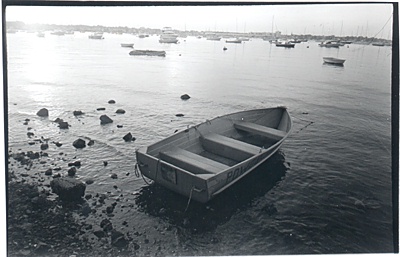 © Chris M., Marblehead, MA