I'm a Alabaster Warrior
August 19, 2010
Soft alabaster hopes fighting their way through
Letting themselves be moved, but not pushed.
Gliding through the translucent words of men, whose work is to inform me.
Inform me, inform and tell. But where is the promised cure?

My something could not be defined by medical terms but rather by fainting words
and curved eyebrows from family members.
Dictionary-worthy words were short-after running out of their mouths.
Describing what their predictions were, but not revealing the future pain i was going to be addicted to suffer.
The pain that would bring me the breaths of my life.
Relying on this just to self-drive myself to wake up.

Chemo was introduced to me, life giving machines.
Each trip, reminded me of how strong I had to be next time.
Lungs swirled,
ached and
dead they became as I endured through that pain.
Kind words, and hugs fueled my empty self.

Doctors kept sharing their language with me,
Trying to help me understand my condition.
soaked in the words,
letting myself know "soon they will be gone".

Scleroderma hit me.
Turning me into a cold rigid creature. i found myself outside of my nature because
warmth was gone.
Then attacked, my soft alabaster hopes by dancing through the air
Invading the pain.
Letting me reach the fact that everything was going to be okay.
How life someday will turn out to be fair.

In rhytmic stomps came Myositis inflating parts of my body.
Of muscle, tissue, material part of myself.
Then Gastroperesis; paralyzed part of my soul.

Pills, and treatments were suggested by professionals that preached their experience,
thought their intentions were not clear
They explained symptoms that "might" occur.
Everything blurred.
Where my skills supposed to come from the pills?
Where these unnatural methods of healing supposed to help me?

A pretty little capsule couldn't cure
the daze
haze
the maze that had me trapped in medical terms.
I thought to myself,
narcotics wont calm these monsters inside me but rather give me side-effect propaganda

Lungs couldn't take the rest, the rest of what I had left
had requested to get out of the game.
To find a cure, and and stop the theft
of what was left of my lungs.

I kept suffering with
these illnesses
illnesses
illnesses
illnesses
illnesses
illnesses
yes, these were sickening!
but i wasn't ill.
I transformed into a warrior.

That type of life had forced me to build my sword
and paint a shell around my body.
To smile through pain and treatments, to make myself a gleaming creature
A creature unable to drown, even through the hardest waves of life.

Gleaming alabaster hopes fed my courage.
Sliding through the lost moments in life telling me
To dance, dance and swirl and cry.
to touch my skin, my eyes, and hair;
to touch my hopes and dreams and
and tell everything with a cement-hard soul
"I'm an alabaster warrior, at my own choice".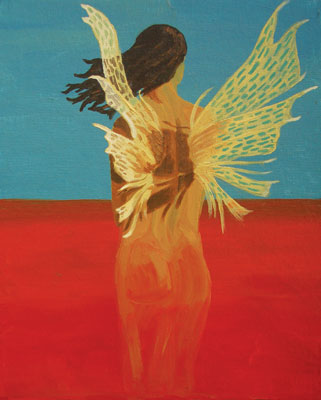 © Allison F., Langhorne, PA