Dandelion
August 23, 2010
A House
A House is a place where happiness is replaced with emptiness,
Where love meets hate and hate wins,
Where your hearts desire to leave
Burns brighter within each second.
I live in a house
And sometimes I become so lost in my thoughts,
I forget where I really am.

Dandelion
A towering golden gate stretching across the green forests.
Beyond the doors lie a stone winding road surrounded by vibrant flowers.
Ascending up the colossal marble staircase
You find a massive dandelion,
A light creamy yellow
With a smooth leveled surface,
Tranquil and serene.
Immense windows to view the peaceful wood on the sides,
And the prosperous neighborhood ahead.

Clouds
Upstairs you find a cloud.
It is spacious, breezy, and relaxing,
Filled with literature and art
J.K Rowling, Lemony Snicket,
And maybe even Shakespeare.
Paintings on the wall symbolizing
Humor, happiness,
And triumph.
A paper thin television used to entertain and soothe the mind,
And in the center is a heavenly surface
Where I close my eyes and dream,
Dream of the perfect home I have finally attained.

Boxes
Light brown tiles are beneath my feet.
The black and silver appliances anticipate my arrival
Ready to serve,
Pasta, fruits,
And ice cream.
All is available in this refreshing box of delight.
The cabinets filled with limitless edibles,
The face of hunger shall never be seen again.
Across the marble counter top is an extravagant dining table
Roofed with the elegance of a gleaming chandelier.
An impeccable site to enjoy your meal,
And socialize with guests.

Oasis
Deep in the abyss of this castle lies a campsite.
The ceiling is imprinted with the dark starry night,
And the floor is covered with a white woolly material.
All is welcome here,
For this is the place to laugh, smile,
And enjoy your nights together.
Guilt, anxiety, and concern is forgotten
In this desirable oasis.

Forests
Beyond this dandelion,
Freshly cut green grass extends to lengths I cannot identify.
Up ahead is the serenity of the woodland area.
Trails and paths leading to nothing in particular,
Allowing you to admire the beauties of nature.
A pool lies in the corner
Filled with pure pellucid waters.
Here I swim aimlessly
Reminiscing over today's journey.
To the left are the open fields
Left for you to do with as you please.
Exercise, read, write,
Or become lost in reverie.
The yard is my sanctuary,
A place to explore, wonder, and meditate.

A Home
In my mind
I envision a home.
No anxiety,
No stress,
No worries,
Just silence.
This is a place found only in my mind,
This is a place I can call home.
A dream waiting to be fulfilled.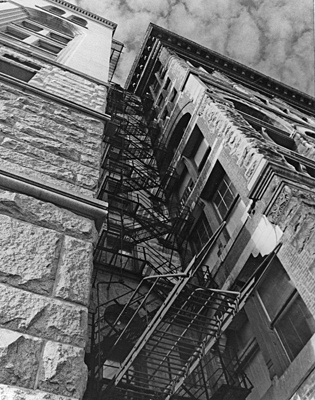 © Eric H., Lafayette, IN