Daddy's Little Girl
August 20, 2010
Some days I try to remember what it's like to be there.
You know, with you and mom, when we were an actual happy family.
I can't say I miss those days entirely.
It wasn't like I knew then, but I know now and everything is fitting into place.
Actually, it makes me hate them more.
All those signs of the hate and lies are so clear now.
You were never home, always claiming to be at work.
Mom made the best of it so I never thought any different.
I was young. I didn't know you'd break my heart.
Daddies don't do that to their daughters.
But I didn't know HE was in the picture.
I never even imagined I wasn't the only one.
But now it's clear why you never spent time with me.
Why you never came home until I had went to bed.
You never wanted me.
You had HIM, the son of your dreams.
You only wanted mom.
You loved her and you loved my half-brother.
Not me, I'm only a silly little girl.
A silly little girl, you taught to hate.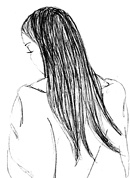 © Miranda B., Neosho, NY