Somewhere far away
August 2, 2010
It all started as a thought.

One tiny spark that set into a flame which then became a fire.

And suddenly the color has enveloped you, all the fiery oranges and subtle yellows forming something extraordinary which is something like the ordinary.

An infant world, sweet and innocent and with an optimistic future and an inexistent past that is ripe for the stealing.

Immature trees growing at the base of spiky mountains and winding streams trailing into an overflowing ocean, the land fresh with unused air.

Something out of a storybook filled with messages on how to be a good girl.

But here there are no meanings or virtues, no sins or guilt.

Just the rolling hills filled with sweet smelling flowers and a gem coloured sky filled with cotton ball clouds.

It's a place that looks out into the old world with longing mixed with pain, like a small child not sure about an immature parent who cares nothing about her.

The beautiful result of a disastrous mistake.

Where new creatures are now appearing like shapes in the mist, some that are known and others that look like they came out of someone's strange imagination.

Bears the size of elephants, tiny humans with dazzling, shimmering wings and many more, all zooming out and about to find the perfect spot to start their new lives.

And there on the horizon, a tiny fleet of ivory boats with sails held high.

Docking on the rocky shore to let loose beautiful human creatures with long willowy limbs and gentle, intelligent eyes.

Holding crude spears of a mysterious metal and wearing ratty tattered robes of the most exquisite silk.

Ready to take on a battle but instead finding only what they wishfully whispered in their fevered sleep.

Hope.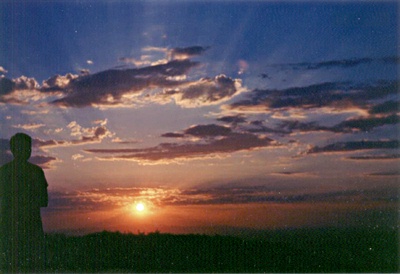 © Jovee B., Dededo, Guam