Empty Room, Empty Heart
July 21, 2010
I always make room for you, you know.
Even when the house is empty and the air is quiet.
Even when the wind blows sad whistles into my head.
I always find a place for you.
On days when I'm lonely, I will sit in your room,
In that echoing starkness, and fold up your clothes.
I'll make dinner for you, set the plates of two on our mahogany table.
Even on those cold bleak silent days.
And I'll let you have your place-in your roots, at your home.
With me, and everything you're supposed to have.
When the night is shivering, I'll warm up your bed,
Tuck you in there, and wait.
Alone in the darkness, alone in the blowing of the wind.
And when spring's annual rays give way to those humid memories,
I'll make my trek up on Carmen Hill, and find you there, smiling.
And I'll dust you off-grind my toes in your soil, your grass.
I'll pray a while for you, and sit for hours, 'cause I'll know you'll stay with me.
When it's finally that time to leave, I'll return to our place,
And open up drawers of locked pieces, of our collections of stories,
And kiss the photos of worn Polaroid sheets.
I'll linger in our dining room, and sit in the very spot you used to sit
To stroke my hair and warm my heart.
I'll sit there, and think and smile,
And wait wordlessly for my heart to be warmed.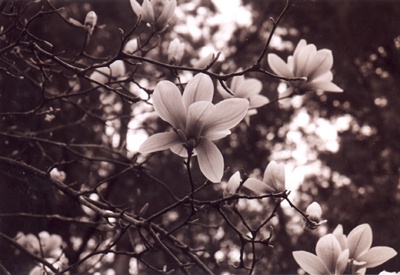 © Laurie T., Hopkinton, MA