Childhood Friend
July 7, 2010
Memories echo around in a jar
I pull out the nearest one
And hold it close enough to kiss.
I see child me
Lean up and talk to a tree.
My youthful eyes
See the leaves and branches
Nod in answer to my question and
Respond with wooden creaks.
I find these conversations
More engaging than the kids
Tackling each other on the slide
Right there on the Playground.
Her branches: outstretched hands
More alive than the kid
Who cries for his skinned knee
On the gravel behind me.
Looking up I let the leaves
Hold all my little secrets and thoughts.
But now I'm back, years later.
All that's left of her
Is a sawed off long dead stump
My childhood secrets, dreams,
Lay broken and scattered
Around my dead friend.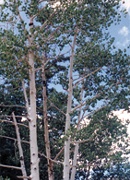 © Bethany D., Philadelphia, PA