Radiance
June 12, 2010
Love is a bitter potion;
I found your brand so hard to swallow
it spun me around
spun me dizzy
while I pretended not to notice
the hatred in your hazel eyes
What exactly was your guise?
Tell me, because my own
fractured, broken heart barely remembers

Your own heart lies
though those lies were sugar sweet, beautiful, demented
your lies
kept me awake at night,
my own thoughts and dreams
swirling
surrounding,shrouding me in shades
of radiant grey.

So here we are,
I know I'll never be the same
pretend like you don't know me,
act like you don't remember
I'll attempt at faking resolution
make believing in an ending
So I can
attempt to quell the shadows

But I already realize
I'll never be the same
My so called resurrection
was as fractured as my heart was then
And still, your fantastic lies
spin me around
pin me down
black me out
and stab me
with the sharpest blade
of radiant
grey.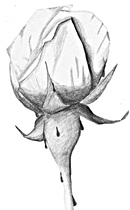 © Elaine S., Phoenix, AZ