Autumn Leaves
June 29, 2010
Within the vast vacuums of the wind the leaves wildly waved, whispering wistfully, willingly.
Sleeping, seeping sounds of shrill silence: whoosh, whirr, whirl. I want to whirl with them. But I must stay, sway, shoo, shwoosh, go.
Symphonious vibrato spinning from lips, sparrows, sand, snails escaping footprints. With ecstasy sighs echo from wings, high, hovering hopelessly. Simply, sweetly, the endless churning of the music box changes as the wandering breeze wanes, lingering on a moment.
Seconds, seasons slipping past: one, nine, fourteen.

Huge hands with a thousand frail fingers bow, clapping, slapping, snapping, happy. But sad.
Her sorrel trunk grows high into the sky, swaying, baying, staying.
Going so swiftly, leaves speed, soaring free from frost. Through silent groves they sail and rustling through deep rivers they leave, leaves driven by the bright sun, setting beyond.
Eternally failing to linger resolute on frozen fingers.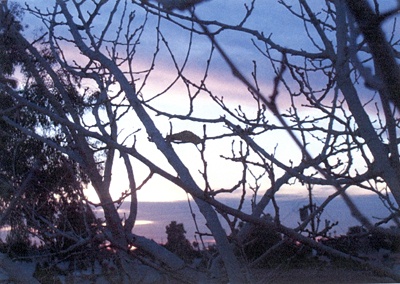 © Delia R., Phoenix, AZ