13 ways to look at a girl
June 9, 2010
13 ways to look at a girl
I
Among the 200 people
around me the only
one I saw was her.
II
There were three girls around
her. She was standing
there like a tree.
I saw pure beauty.
III
Her hair swirled and in the
autumn winds filled a big part
of my day.
IV
She and I are meant to be
two apples in the apple tree.
V
I do not wish to eat the other
apples in the street.
Her beauty is all I need.
VI
I think she is the one.
She would be lots of fun.
That's what I need. While I'm young
She and I have just begun.
VII
I sit there and watch her walk by together. We multiply
I hope she will see me. But I don't think she will. Watching her is a thrill
but maybe, maybe she will.
VIII
But if she doesn't it's ok.
I get to see her for the next 365 days. I can wait with
hope at the end of the year.
She and I will still be here.
IX
I hope I don't stay back
Then She and I would become
unattached. I would not like that; it would hurt.
Maybe she and I will make it work.
X
If she and I combine I would be so happy inside.
It coudn't be hid.
It would be like a jar with no lid.
XI
I hope one day I will be able to stay.
It would be a very good day. At the end things would
change but it would all be the same.
XII
Maybe she is going to the dance.
If she does I will be in a trance.
Her beauty would be in the colored light;
it would be the night of all nights.
XIII
In the future maybe we will meet
maybe be friends or maybe just maybe
we will be together to the end.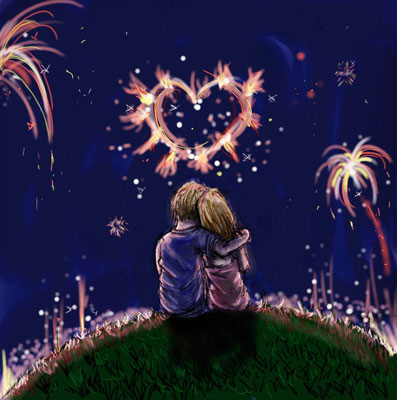 © Carissa G., Aberdeen, WA