The Debate: Notes of a Writer
May 27, 2010
I don't want to hear
the sound of each syllable,
emphasized, overshadowing
the informality of what is
successfully said without them.

The bluest bird
and the tallest tree
is no importance to my pen.
What is being seen from the
smallest window
does not interest my paper.

I want to write
what Cousin Nessa said
two minutes ago,
and I want to emphasize the detail
of my voice
when I laughed.

Allow me to journey
off a page,
setting free my thoughts,
regardless of whether
they create a story, an image.

When the cars go by, as I am sitting
down on the cracked porch of Nanas'
house, let me drive my pen on my paper.
No need to describe the colors of the cars,
the speed of the engine.

I am no
Richard Wilbur.
I have no will to write about
the smallest fly,
the ugliest flower.

I am not a confessional poet.

I don't want to discuss God.
I don't want to curse Jesus.

I have merely the want to write,
with the conditions and standards
marked on putting pencil to paper.

Language has no need to make sense
if the poet speaks what needs to be spoken.
Thy and thigh can mean the same.

I don't want to try to be humorous through
random comments.
I don't to write deeply,
but jot down my heavy emotions.

Revision is only for those unhappy
with their feelings, and those
who feel the need to alter
themselves.

For what we write, we are.

I want to scratch out every line
of every poem discussing the matter
of love.
We all know the different interpretations.

I don't want my writing to resemble
that of Shakespeare –beginning and ending
almost every line with alas.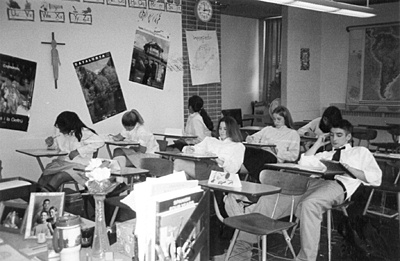 © Fox V., Whitesboro, NY