By Jars and Moonlight
May 29, 2010
As I wait for the sweet fragrance of dawn,
I listen until the notes are gone.
The sweet rendition that twilight plays,
Of fireflies, by jars we slay.

The salty taste of moon on my lips,
Turns sour after the final eclipse.
The clock winds down with every breath,
As simply as the heart in my chest.

A cadence without notes.
A mockingbird with no croon,
As I hope that dawn will follow soon.

Slats in the blinds, all turned down,
So as to hide my bloody gown.
The sweet fragrance of midnight strife,
When hope betrays and so does life.

Little puddles, the moon beams find,
As small sheep's mothers become softly blind.
A funnel of light sheds upon my face,
As my sinful existence, they slowly erase.

From the white rays I cannot hide,
As I finally cross to the other side.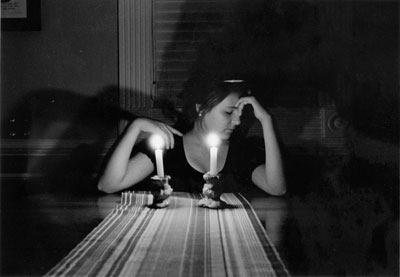 © Eleanor K., Bethesda, MD