Game's Up
MAG
May 29, 2010
Happy
Then sad
Then undecided
Should I move faster
Or slow down?
Or is this just a game
And if I play my cards right
I'll come out on top
(no matter where I'm stuck halfway)
is there a card
a piece
some free pass to the finish line
with no fuss
no mess
just a kiss and a
happy girl, well-developed, well-rounded?
I'm the best, I'm the worst
The most talented
Or the one who shouldn't write
I'm so pretty, so cute
So right in the middle
So ugly, painful to look at.
I'll just sit on the ground
And I'll let my eyes run until
They can't breathe, they can't catch up
With my pathetic heart
And isn't that sad?
Shouldn't I be happy for my friends
Who are out kissing and smoking and
Experiencing life?
Shouldn't I celebrate the fact
That my friends are so happy, they act their age
Instead of calling them names
Under my breath at midnight
Speaking to the walls
And a half-full
Poetry book.
Should I be bothered
By the fact
I get drunk off words?

The only thing I've ever kissed
Is my dog.
Should I care?
Do I need to lie
About the boyfriends I've never had?
Do I need to make up names?
Should it matter how far behind I've fallen?
A million years, and still slipping
Still trying to be
A teenager, when I'm really only
Six
Maybe seven, 'cause I curse sometimes
(but not in front of Mommy)
See, the thing is I don't know yet
what I want to do with my life
and if I don't know
I'll sit at home and wait
And write.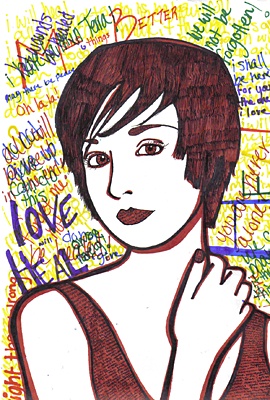 © Sara D., Aiken, SC