Cap'n of the impossible made possible
May 29, 2010
Dood, I want to sail the skies. How sick would that be? You could sail over the open baby blues as you graze your hand over a cloud of cotton candy dreams. You'd feel the rain forming in the cloud, but stay dry. Taste it in the air.
But that's only because the golden rays would soak it up. The giant star would keep you warm. You'd never know cold again, during the day.
You could watch the sun rise or set from a cloud, how sick? Best seat in the crowd. Hollywood can't make a sunset that romantic. Earth's grounds wouldn't understand that sight. If I could I'd hold the sun in my hands, wear it as a necklace even. Prove I was cap'n of he baby blues.

I'd then sail past the atmosphere to the endlessly stretching blackness. I'd take a star in my hand and crush it to powder. Then blow it's sparkles against the emptiness and create more stars. Let them sparkle for the one I love. Then I could say I made a wish on shooting stars. I'd take the prettiest one and wear it around my neck to prove I was cap'n of the glistening diamonds.

Then I'd walk across Saturn's dazzling rings and hop over to Uranus and fix it's axis so it wasn't so darn crooked. I'd grab Pluto and bring 'em closer so it wasn't so cold and lonely. Once my work was done, I'd dive into a black hole pool and travel back to another Earth. Then I'd be cap'n of the heavenly bodies.
Once I got there I'd lay fall asleep to a moon, robbing the sun of it's light for a show. It's be so serene. I'd awake to the perfume of wild daisies and minty dew grass. I'd dig my nails up under the dirt to find choclate crumbles and gummy worms. I'd run through shadowed vallies and sugar topped mountains. I'd be cap'n of the land.

I'd be cap'n Viki. Cap'n of sunshine, baby blues, and cotton candy dreams. Cap'n of midnight diamond wishes and orbiting giants. Cap'n of stolen lights, colors and delicious lands. Cap'n of imagination.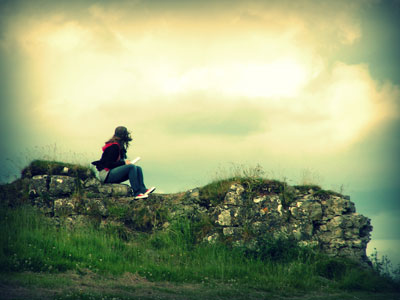 © Caroline C., Coronado, CA