This Bottle of Mine
May 15, 2010
I behold to you this bottle of mine,
The liquid inside is not of great design,
This bottle of mine has once traveled near and far,
By waters, by tracks and even by car,
The cap is only a distraction of whats inside,
Where my memories hide in this bottle of mine.

Down to the bottom is where you must seek,
For its a breathe of fresh air on any mountain peak.
The bottom beholds all my thoughts, feelings, and deepest desires,
You must see my treasured moments and memories before time expires,
The bottom has been every where except for the brim,
For this bottle of mine is a precious lost gem,

This bottle isn't transparent for its a shade to dark,
But it shows the lighter side of me with only one spark,
I am up to the neck of this bottle of mine, falling deeply in love,
But its time, I'm ready for my home in the heavens above,
All this time Lord, you have been far too kind,
But here is my soul, This Bottle of Mine.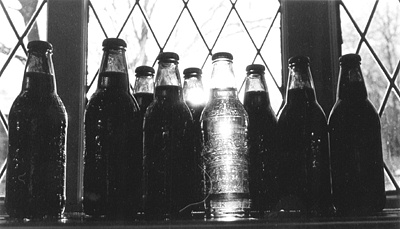 © Steve S., Marblehead, MA