Spawn Of Life
April 15, 2010
Shall I lie in my bed, day after day?
Ever so ostensibly wasting my life away.
A brittle soul lies within my physical depths,
A shattered heart beats in the center of my chest.
My silent tears are held within my dark brown eyes,
Secretly harboring my soulful cries.
I often find myself in a cold, dark place,
Anxiously awaiting for light to shine upon my face.
Pregnant with anger and the overwhelming urge to spite,
A child conceived by complexities of life.
It's an ever growing fetus…
Expanding from inside,
For I am several months along and all traces of felicity has died.
When you lay with bitterness and resentment,
This is what it creates,
It knocks you up with vengeful spirits,
Oh, when will my water break?!
When will the time come for me to give birth?
To push out this bastard, the main causation of my emotional aches and hurt.
The great sink into a deep depression are my contractions,
And like an infant inside a womb,
It gives off a kicking reaction.
Often asking myself, "Is this who I am?",
For my truths are the revealing sonograms,
Exposing the force which generates in a symmetrical proportion,
As it continues to grow,
My mind goes on in extreme distortion,
For it is only happiness and tranquility that can give me an abortion.
Only can I pray I'll miscarry,
And every ounce of misery will be the undeveloped fetus that exits my body,
And my worries will be the blood flow, rushing from inside me.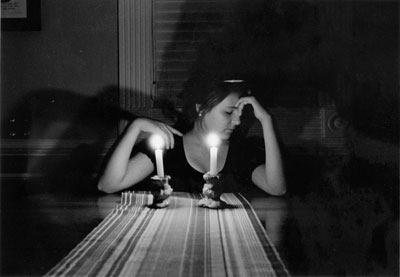 © Eleanor K., Bethesda, MD