December First
April 30, 2010
The stars above forecast, with their iridescent glow
the sickening radiation of my heart.

When the snow in the sky refuses to fall
over these cold, marble graves
and winter won't quite settle on these restless minds,
my heart will quake and tremor for the songbird's melody.

And I will sit on the frost-ridden greens,
look over to the statues and to the frozen fishponds;
This is my home, this is where I belong,
where I can reminisce in the moonlight's beams.

Her name, it twines like ivy on forgotten stone
like the pedals of a dying rose-- withering away before my eyes.
And I will tend the broken seeds and nurture them from the ground,
look over the shattered horizon as I hear the last breaths
of those so far off yet so near; you can almost feel the cold, bitter warmth.

But I am not judged here.
There is only one verdict in these melancholy grounds.

Here, the bonds long broken are at length renewed,
souls entwine and thoughts will find peace
as we speak to ourselves over our broken cadavers;
and they are the reason for this quivering.

Still we are fragile over these carapaces,
though they are shells buried in forsaken ground,
under the sun's bright rays and moon's blind gaze.
They are brought to surface; oh! how I can see them rise.

And I will never love another,
but my mind will wander over these dirtied faces
as sturdy smiles fade away, as beauty is erased
like memory under the looking glass.

We struggle to connect the pieces; to fail is to be incomplete,
to succeed is to find yourself in time when you most need yourself.

And I will touch your name, and I will kiss this monument,
for you are the testament of my sorrow, and it is written in slate.

No tears will fall, for I do not feel pain; nor do I know regret,
but as days pass by I cannot help but wonder…
Why is it that the sun shines most on those who need not its light,
and instead neglects the wholehearted, leaving them to freeze
in the cold troughs of this world?

Why do wicked rise and the beloved fall to the dust,
which rises up and in turn clouds over the good;
why do the wicked always go on?

And I will never understand how the workings of this planet--
no, I will never know how this earth can churn,
nor how we can move from day to day while our reason,
our meaning lie beneath the ground; bones exposed
like the weakness of our flimsy spirit.

Tumbling down a flume, a river of washed off dreams,
never forgotten, but you cannot grasp them in
your clenching fingers- no- you can never seem
to pull from the waters your hopes once residing.

Even the broken is repaired, even the worst can better
and even the buds and blooms of our hearts will in time
sew together and come clean; we will find purity and peace,
and we will find love.

My heart so shattered now restored, my soul so fragile now made firm
My eyes so wary now made to see, my mind so weak is now made strong;
My beauty, my life, my sight and my love;
No, I say-
And I will never love another.

My heart broke on December first.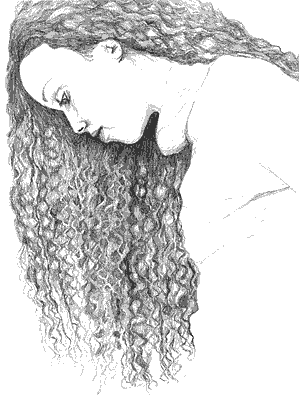 © Andrea S., Oakhurst, CA