Death of a Rose
April 27, 2010
Gently the wind blows,
yet the petals of the red rose continue to fall.
Despite the pure water that gives it sustenance,
slowly the beautiful rose dies.
Nature has done all she can,
yet still, the rose wilts.
And so the sky cries in despair of the rose's pain,
the ground is soon moist with the tears of the darkened sky.
The bright sun now disappears behind grey wafting mounds that were once white uplifting clouds.
In sadness the rose looks up to the black sky, as a tear from the sky slowly runs down one of its dying petals.
As if the sky's tear were the rose's own, the once lively flower cries with the thundering sky.
Lightning stretches across the sky, its sorrow and sadness made real, visible and has become reality.
A once vibrantly red petal falls from its flower and lightly touches down into a puddle of the sky's tears.
And as the storm grows this now dead and wilted rose breaks at its stem.
Its thorns become dull and leaves grow wrinkled.
The sky screams and cries as the last petal falls,
finally its pain is over.
Thunder roars one last time and the storm dies with the rose.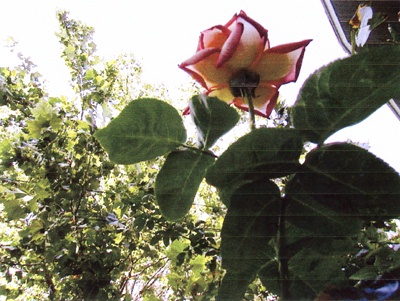 © Courtney P. Alpine, TX