Finally
April 7, 2010
It's never the same with you, and a part of me can appreciate that.
I would get sick and tired of the black and blue, frustrated with blue and black.
The reds and purples are a welcome change; they're much more intrinsic.
People who see me on the street should think it not strange; they should understand it's just a habit.
The inertia of your blows is unplanned; velocity always takes over.
You swing off without realizing you've raised a hand, and before I know it I'm swollen.
You don't mean to implode until you erupt, but it's my fault for fighting back; I shouldn't play tough.
Pain comes before comprehension with the two of us, and I wonder why Cupid's aim somehow keeps losing us.
Maybe this is love in its truest form, that you would nearly pulverize me and leave me feeling lovelorn.
When you beat down my flesh I suppose you're raising my spirit; you're building character within me and I'm just too emotionally bruised to truly appreciate it.
Our love is complex because only we can understand how it works.
People see my black eyes, jump to conclusions, and automatically peg you a jerk.
And maybe you are a jerk...but you're a very strategic type of bastard.
You do your dirty work, and then when asked about my condition you formulate lies like, "Our apartment's kind of rundown; she was hit by some falling plaster."
Plaster, plaster, plaster. I'd like to plaster up my face with my hatred for your cunning ways.
"Ask her! Ask her! Ask her! She'll tell you I didn't do that—she was just being clumsy like always!"
How dare you lie to my family and friends, telling them I do this to myself.
What kind of imbecilic moron do you take me for, you devil from hell?!
Deep breaths; I can't get upset over this all.
Baby steps toward the closet, folding clothes, packing bags, and eventually I'll be halfway down the hall.
If ever I reach the door to the outside world and escape your grip, I'll look back and tell you you never had me whipped.
I loved a someone whose maliciousness wouldn't allow him to love me back, and for a long time I was too stupid to see it.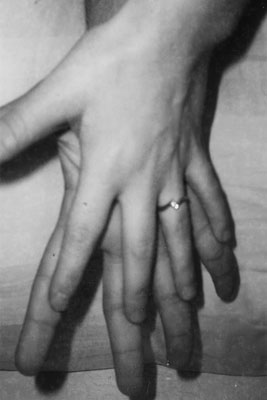 © Heather H., Phoenix, AZ