sunshine
March 22, 2010
Sun
I make rainbows comprise sweet colors,
when the sky cries.
And I wake the world as I rise.
I kiss your face,
and make it scorch.
I make your drink sweat,
and your feet scream,
as they move against the ground.
When I set,
the world falls back into a deep sleep,
and dreams again..
until the morning,
when I rise to shine again.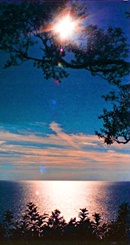 © Crystal B., Gresham, WI