The Sprint of a Lifetime
March 18, 2010
Born into this world to where discrimination of race is still present.

Where you are not looked at upon your character nor your personality,
But more of color background which lies upon the skin that covers your body as a protector.
Jesse Owens was nothing more than another black kid with a dream of furthering his education.
The white population thought they could hold him down,
Tear his dream.
His heart.
His Desire.
Only motivation pulls him through.
He held strong, day in and day out through the hardships of life and the complications of survival.
Used running as more than a sport, but as a motive to show the world,
His country
His town
His family
Himself
That whatever you put your mind to and to set forth with that goal, then you're bound to succeed.
From his first practice to his last, he met his goal and he set forth towards the 1936 Olympics in Berlin, Germany.
He had witnessed the prejudice near and far,
Being put down everywhere he ran, walked or wondered.
As another African American who shouldn't have the same opportunities as the rest.
He left Berlin with the four luminous medals that outshined the ignorance that neglected his personality in the minds of many.
Jesse may have the 200 or 100 meter race, but the race yet to be ran,

Is the race to an equal perspective to all races and for prejudices to be known as the "false start".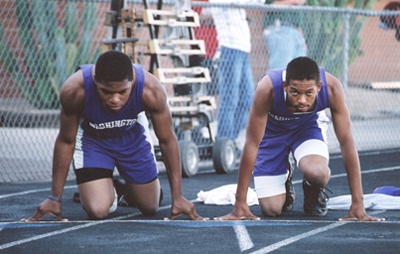 © Mark A., Phoenix, AZ