A Perverse Perspective
March 19, 2010
Once fueled by an incandescent vitality,
The artistry of her soul has been hushed, lulled to sleep,
Until it faded as sickly gasps of candlelight--
But a flicker of inspiration.
Idealism does not do well in this world,
Nor does the era encourage the mind of one who seeks to find life on her own terms,
To devise her own definition of reality.
To reject, to accept, to numerate, to construe,
To limit, to twist, to establish, to distort,
To detach, to exempt, to vindicate--
Until a subjective normal is reached
And absoluteness is the theory of self.
"Intolerable!" screams the world,
"Absoluteness cannot be within the individual self,
But the collection of souls must conform,"
And should an individual not comply,
She is outcast from the barren oasis of society.
For wasteland, society is not perceived to be;
Conformity deludes the mind,
And masquerades as acceptance into some immortal alliance.
The fear of being a rogue forces each drone to suppress Individuality,
Who, in turn, eats away at the inside of its betrayer.
Yet, could it be that paradise is in the beholder's mind,
Should she only turn the key counter-worldwise,
And see it from the perspective of her own perversity?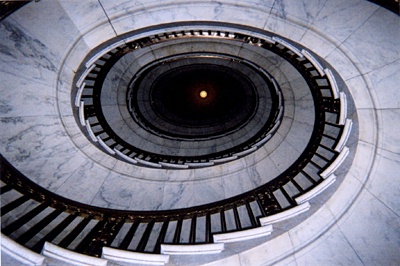 © Kyle T., St. Joseph, MO