The Funeral
March 10, 2010
In unison
the ushers
march with the box
weighing on their shoulders.

They trudge on slowly,
the men carrying the box,
not a sound from their tongues
escapes their sullen faces

The dead trees loom over us all
casting their dim shadows
They reach their old arms high
into the deep gray curtain over us

Through water in my eyes
I slowly turn my head
i look for my happiness
And can't find it

These poor people
have lost something
Along this long road
and they know they won't get it back

There are no sounds
just the sound of my heartbeat
I should cherish it now
while it's still with me

I try to stand
Even though my knees quiver
this whole thing is so sickening
i want to be out of here

And yet the one in the box
wont ever care
He has been cast into eternity
sometime ago

Yet there is color
flowers so radiant and beautiful
being laid around the box
soon they too will wilt away

Those sad men;
they are lowering the box into the ground
It disappears
And is never seen again.

People around me are leaving now
They have nothing more to say
They go back to mourning
Alone, someplace safe

But isn't this the routine?
This final ceremony
is this is how it ends,
with the funeral?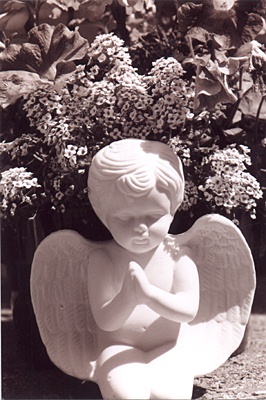 © Laurie T.,Hopkinton, MA