My Mother Waits By The Sea
March 10, 2010
My mother waits by the sea
The waves crashing by her feet
THeir soft white hands inviting her
to join them,
to play with them,
to dance within the waves
and move as one
with the ocean.

My mother waits by the sea
awaiting my father's return
for him to come home
with the currents,
to finally see him,
battered by sea and rain and wain,
pushed to the edge.

My mother waits by the sea
looking out a foggy window
into the raging ocean
the storm pounding down on her future
the widow within her
rising with her fear.

My mother waits by the sea
hoping as she waits
to catch a glimpse
of the past
of what she wished to keep
drowned in a dream.
The sea is a cruel mistress,
a cruel mistress
from which my father
will not return.

My mother waits by the sea
her watery grave twinkling
under the glorious setting sun.
The horizon
a mingled sky and ocean,
a glimpse of what's to come.

My mother waits by the sea
waits for a husband that won't come home
waits for a past that never was
waits for a life that won't return
waits for a dream that has become a nightmare
waits for a future that's lost at sea.

My mother joins the sea
stepping into a new world
to dance among the angels,
once so weary from waiting.
Blinded by a love
that will never come home
and when my mother sees the sea
for what it's supposed to be
she will cry
tears lost in an ocean
tears no one will ever see.

My mother is the sea.
She smiles to me with the setting sun,
she roars with the clashing waves,
laughs with the rushing current,
and cries beneath the rain.
I watch her from the pure sand,
a sad smile playing upon my face
as I watch my mother
searching for my father within her.
She will not find him,
she will not find him,
because someone who does not want to be found
will remain lost forever.

And so I wait by the sea.
I am not my mother.
I am not going to join the tumultuous waters.
I am not my mother,
yet within my heart I feel her,
a furious ocean,
lost within pretense,
lost within false hopes,
lost within herself.

My mother waits by the sea,
and so I join my mother.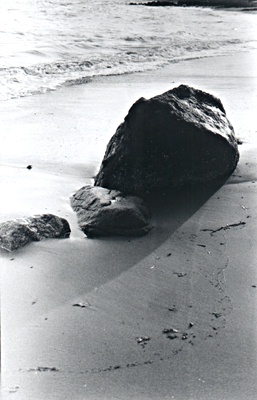 © Alexa R., Marblehead , MA