Arboretum
February 3, 2010
It's almost spring—not quite, but just
Spring; the ancient trees are leafed
And spring has woken jasmine on the trellis
And kissed the irises to bloom.
Overhead, the hoary branches wave—
The trees are dark and mossy with old age
Thick with ivy, bright and tender
With new leaves.
There's a bride and groom kissing
By the misting gardens; overhead
The cypress and myrtle gently sway
And all the ladies cry.
There's a little daffodil in pink
Laughing on Daddy's shoulder in the sun
As down the hill together they go bounding,
Past the honeysuckle and hyacinths
And little painted tigers skip past the tulips
And little dusty pirates steal azaleas
And frolic in the fern.
The bronze hart and brassy hind look on
As, by the little glistening rill,
Canopied by live oak, ringed with cattails,
He goes down on one knee
And water's not all that sparkles there.
Out by the lake where tulips bend and dance
The piano's fading notes float past
A golden dusty mote of memory—
The wind blows sweet and warm.
And old Henry and Lois go slowly down the hill
Hand in hand, past bright anemone
And past the trailing ivy, thick with bud
Not yet burst, but ripe for gentle spring's
First touch.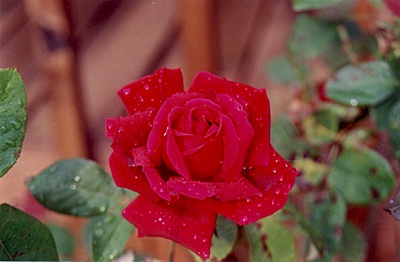 © Jami U., West Hempstead, NY