Colours on the Pavement
February 12, 2010
Smudged blurs of old lipstick softly smile around her mouth,
A trace of a dark blue candy stains the center of her bottom lip,
Imitating a day old bruise.
Her dark grey eyes are charcoal ringed,
Smearing out the liner,
Making old Egyptian cat-lines.
Soft, red hair, hangs loosely down to her waist.
Twisted in a love-knot, it falls in wispy curls; epitomizing the look of romance.
Multi-coloured, many layered clothing;
Surrounds her small frame work of bones,
Keeping out the harsh cold of the pavement.
Her colours are tarnished,
Shaded down with the dirt of many nights spent sleeping in doorways.
Doorways leading to a forgotten nothingnesses.
Too many days in the future are waiting,
Much the same as those before.
Days lying waiting,
Ready to walk the thread of her lifeless existence.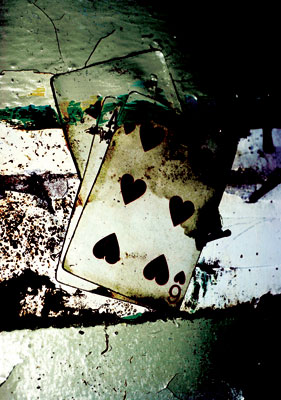 © Tracy A., Scarsdale, NY