My Home Away From Home
February 3, 2010
The rough sand crystals run through my fingertips,
bright shining sun warming my face.
Surrounded by smiles and laughter;
relaxed.

Eyes closed, I feel the bright shining sun warming my face.
Eyes closed, I hear the laughter of my family after every crashing crest.
Eyes closed, the salty spray from the rough surf falls upon my bronzed skin.

I open my eyes, I am facing the villas.
Pawns, rooks, and bishops dominate the balcony,
eager relatives rush to finish the chosen book, for the annual discussion is fast approaching.
The three thousand piece puzzle stares back at me,
taunting and teasing as it sits, half undone.

Shrieks of laughter and joy emanate from the crystal clear swells behind me.
Blue beasts rise,
white crests crash,
sand swirls, people plunge,
shouts of "turbulence" are heard.

Blistering sun tanning my skin, it soon becomes too much.
The rough sand crystals now beneath my toes,
The tumbling sea calling my name.

I dive into the vast, unfathomable ocean,
allowing the clear blue water to cool my skin.

For it is now that I have arrived,
My home away from home welcomes me with open arms.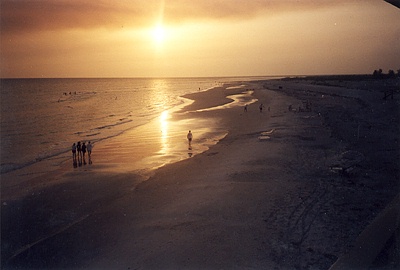 © Sara C., New Port Richey, FL