The Game of Life
January 20, 2010
Football is not a sport,
It is a way of life.
Football turns young boys,
Into grown men.

Adrenaline pumping, as I step on the field,
My senses become clearer.
My dreams and goals,
All mine for the taking.

The game goes on,
Like a dream.
I get pushed to the muddy, damp grass,
And literally taste defeat.

But I walk off the field,
With my head held high.
I did my best,
And that is all He asks.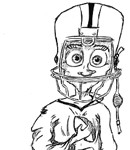 © Steve B., Hull, MA