As Time Forgets Their Burial
December 24, 2009
My head so heavy with indecision.
My life so filled with absolute precision.
My arms so weak with the weight I carry.
My hands so sore from the thoughts I bury.
I leap off the crumbling ledge of sanity
Only to find pure destruction as well as calamity
The chaos of my escaping memories
Blinds me as they flee from their cemetary
I chase them down for I don't want to lose you
But as I retrieve them I realize, I'm missing a few.
Should I search for them, or should I release the pain?
Should I leave and tell myself they're all so inane?
You created me, you made me who you wanted
I perfected myself, failure I daunted
You carried me, when I collapsed to my knees.
My arms could not carry you, as you had with such ease.
Now I wrestle with the twisted pain
That I hold as I bury them once again.
The memories writhe in agony and hurt
As my salty tears soak into the first layer of dirt.
I finish and climb back up to the perilous ledge
and silently make an eternal pledge.
I shall not again unearth those painful memories
But they will forever reside in my internal diaries.
I promise to remember you when time forgets
Even if I know I'll forever hold regrets.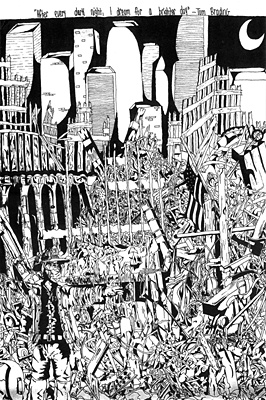 © Tom B., North Vernon, IN