Diagnosis
December 31, 2009
I turned on my radio today, and got a bulletin from some
Faceless man that this wonderful world was over
Because humans eventually destroy all the good they create.
The status quo we've come to know is only
Cemented by nervously forced smiles that I drop because
I'm not sure how to speak any other way.
And maybe they're a mask for the overwhelming
Undercurrents of disbelief in optimism.
My little radio picks up these false signals
From unregistered frequencies across the fray, and I'm left
To question what I've created.
And maybe I should take these messengers to tea and
Chat them up and ask them why
They spread paranoia like the Plague.
I see right through their fallacies and their cracks, and
I ask them why. Why they have to pay their collateral in damage with the
Schillings of protection extracted when they
Picked the pocket of the innocent European girl in my heart.
The rash breaks out on what I thought was solid ground; I now see
Only what the disease, the attack to would have me believe is the truth.
The reservoir of beauty overflows in me at times like these,
Big badass streams counteract nefarious forces
That tell me I'm not good enough.

And if there's any hope for equilibrium to be
Reestablished, it requires nothing less than
For the whole world to turn their radios off on
stormy days; for it is when we are most
susceptible to the broadcasts of insidiousness.
We let our guard down and proceed to let doubt fill it up,
Instead of letting our hair down and realizing that every angle
Is our best angle because a diamond isn't a diamond
Unless every facet exists as a unit and catches the light
As one package. So I give you my whole package no matter what
Radio station is on, no matter who's talking, and no matter what's happening or who's there.
We can get satisfaction without subordination to the norm because
We'll disregard our inner negativity and make it through the storm.

And a diamond is called brilliant because it's an example for humanity. The real genius doesn't rack up IQ points from books but rather from all he stores in terms of reasons to live, each time he tries something new. You teach me that brilliance isn't just a trait but a verb each time you speak not through your lips but through your hands in deeds. You take my words like a lover in between those beguiling fingers and give me fever. But it's the good kind, the kind that makes my temperature go up but my rash go down and suddenly this just in on the FM-
recovery is on the horizon.

We are the gems that were meant to live in the roughs of this world; built to glow,
And not to subscribe to FAULTS FM,
But only to the way our prisms dance in the sun.
Now I only smile because my bedrock foundation
Of positivity isn't about to be shaken.

I'm not quite sure the rival ailment ever even had a real chance.

In my take a road trip every now and again to the highest corners
Of my smiles and realize that I have dimples quite unlike most.
When I'm at the top of my cheekbone's mountains I marvel
At the 20/20 view granted by
Understanding of the things we can't see.

Amidst the chaotic search for validity through the
Imagistic and materialistic, the real cure lies in
Our own blood, sweat and tears. This is the price we pay for
All that is priceless.

I break out the heavy artillery as I meet your gaze confidently, and
When I look in your eyes I see immunity, not just for you and me but for anyone and everyone ever plagued by the initial diagnosis.
We turn off the radio and invite the world to a
Shindig for the resilient and
Make our own sweet music in the rain from the storm.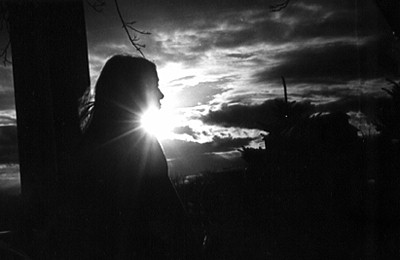 © Elizabeth G., Marblehead, MA