Dream Messenger
December 18, 2009
The walls are breathing.
The pulsing silence screeches in my ears.
I skip merrily to the window,
Set on enjoying the sunshine and the beautiful simplicity of nature.
No.
I drag my lethargic body to a dusty, bug encrusted, bulletproof piece of glass on the wall,
Only to witness freedom from a barred opening that seems out-of-place on the dismal concrete.
I try to scratch a dead fly off the window,
Hoping a miracle would allow a ray of sun to beam down hope on my room of sorrow.
It's not dead.
It grows alert as it senses my finger preying on it.
My hand aggressively lunges for the insignificant pest.
An insignificant pest.
An infectious disease in society.
A despised leper among his peers.
A Monster.
That's who I am.
The fly uses my sudden epiphany to its advantage.
It cleverly flies out of my reach and out of the cell,
Passing through the dull orange, pain-coated bars of misery and regret,
Finding independence from the thick fog of despair that fills the cell.
The air is leaving and anguish takes its place.
I can't breathe.
I reach for air.
I reach for the trampled pieces of my dreams scattered on the cold prison cell.
I reach for my family's trust that is now as grainy as an old, forgotten movie.
I reach for my life as it slips through my fingers like a velvet satin ribbon.
I reach for salvation.
I collapse on the floor.
Darkness ends my ordeal.

Slits of light pierce my vision of pitch black.
My eyes flutter open.
I am alive.
It was a dream.
A painfully honest dream.
I glance at the window,
Then out the row of prison bars that forces me to wallow in my self-pity.
I can hear the fly gloating from the outside.
We are alike in more ways imaginable.
But,
Unlike the nuisance who disrupted my dreams,
I can't fly away from this agony.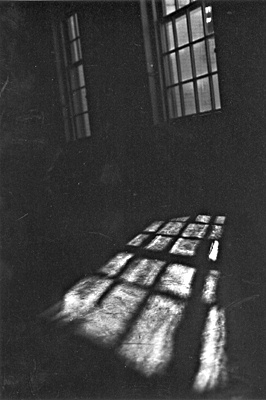 © Mary A., Fullerton, CA