Andromeda's Defeat
November 27, 2009
Thin wisps of flame intertwine, and then spit into the night,
Spooking Andromeda away.
For she is a full woman who only fears light,
The kind that turns the blithe dawn into day.
I glance up from the pit where the red desert fires spit,
And I bind my strange fingers and pray,
"My dead Andy, my sweetheart, my beau beau,
I watch these flames hiss obscenities to you.
They lick one another in a feverish craze,
And they burn sweet young embers in unfortunate ways.
Oh, beau beau, I apologize to you.
I do, do long for the few,
Nights that stayed up until my darling lids closed.
Oh Andy, my sweet. Beau, you know I miss those."
And what now for the ice that melts by hatred's side?
If not in frigid Andy, then in whom shall I confide?
Oh, who lit the damned fire that smothers this town?
My dear Andy, she melts, and the sky, it falls down.
By the time it should cease, my beau beau will be gone.
Peace will be shoved far aside by the blue-bleeding dawn.
As for the flames that do lash us, I'm afraid they'll burn on,
And forever. And for always. A blank veil will be drawn.
"Oh, Andy! I miss thee! Come fight back again!"
The hellions will pass, and the night will begin.

I promise you.

One day, one day soon, I'll lose my beau beau for good.
And I'll thaw knowing it was only because aggressive flames could.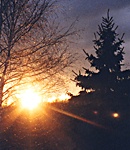 © Christy S., Germantown, NY