Dear, To The One Who Decides to Read This,
November 9, 2009
Dear, To The One Who Decides to Read This,
Today I learned that there is always a beginning to an end.
There never seems to be an individual who believes that.
The gloom and doom will always remain in their minds.
Despair overpowers and trumps the optimism of your thoughts.
Your eyelashes protect your eyes, but who protects your lashes?
The body protects the mind and all, but who protects the body?
He is supposed to protect your body, and you protecting his.
Share each others thoughts and memories with a lock and a key.
He refuses to give you the key to his heart,
with empty words in moments you are together.
He hides it away and breaks off pieces to the shadows that aren't you.
Yet you fallow his shadow in your dreams hoping yours could melt with his.
The heat of your passion with each other should mold the two, to one.
But it doesn't happen.
All you see are the capsized and minute images that you find peaking through the lock.
Only to find images you don't want to see, regretting your choice.
Seeing the face of another and their name placed upon their chest,
making sure you know who they are.
The end of the hallway, where his heart remains, and the door you peaked through.
At the end of the hallway, the hallway of your mind.
Refusing to think about what you saw, closing it up with a new lock and key.
This key he will never have, and maybe you two will be able to exchange them,
the time will be right.
Or maybe it won't ever be right, but that's your decision.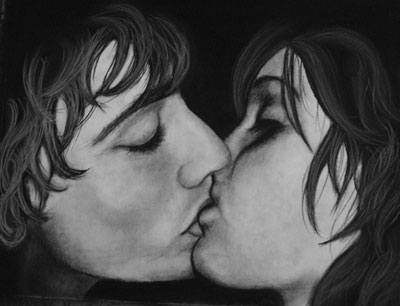 © Anna Y., St. Robert, MO