Writer's Block
October 28, 2009
His day is hard today.
So many things;
So little time.
He looks at the clock
And wonders if that's the only thing
That's sane in his head.
The beat of time:
Tick, tock.
He stares at the blank page before him,
Desperate, hopeless.
He looks up at the clock again
As if there are answers there.

The steady beat is always present:
Tick, tock.
It is drilling a hole in his head,
A head that just cannot produce any ideas,
A head that just yesterday
Was sprouting glorious stories
Like a geyser.
But geysers always cease sometime.
The ticking would not stop.
He wants to take the clock,
And throw it across the room
But he knows that won't do any good.

He's looking for anything, now.
Anything to put him out of his misery.
It doesn't even have to be good.
Suddenly, a glimpse of hope emerges.
A light!
A way out!
It wasn't perfect, far from perfect,
But it was something.
He puts his pencil down to the paper,
And begins to write.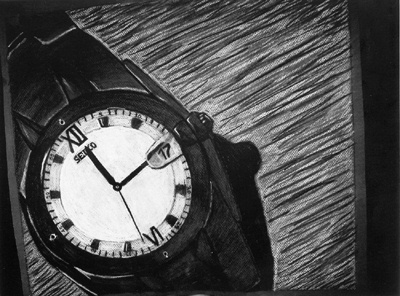 © Rachel U., Danbury, CT